Handprints curriculum is based on teaching kids using a topic of the week system. We teach these topics using learning centers where kids develop different skills. By incorporating fun and active learning Handprints teachers help students to become successful and effective learners. Our teachers change the setup of certain centers throughout the year based on the topic they are currently learning about. This makes our classrooms fun to explore all year round. There are 12 main areas of study in our program: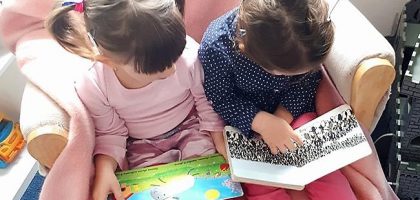 Reading and Writing
Writing and literacy is an essential tool that children need as part of their learning process. This activity is frequently practiced with pencils, markers and crayons on a daily basis which promotes and encourages kids to develop the correct method of holding a writing utensil. Activities are planned to enable children to begin to use and understand letter recognition and understand sound synthesis of letter pronunciation.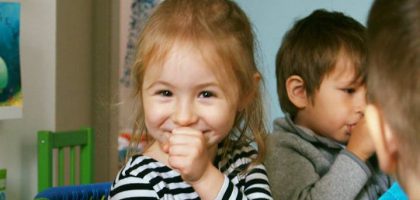 English
As English is our sole language of instruction at Handprints, our program meets all of the English language requirements which will be needed later on for education in international school systems.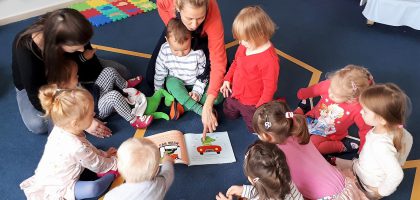 Parents volunteering
Parents wishing to volunteer in the classroom should contact the teacher so a schedule can be arranged.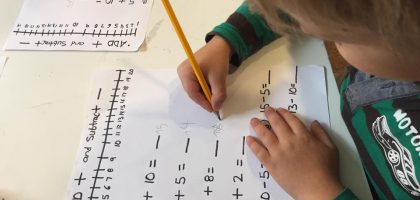 Mathematics
The fields of mathematics covered in our curriculum are: classifying, counting, sorting, sequencing, shapes and recognizing numbers up to 30. These are introduced using learning centers and class activities. Manipulative materials are used to develop conceptual understanding, stimulate interest, and enhance skill acquisition. Manipulatives include puzzles, blocks, sensory play, playdoh and lacing cards.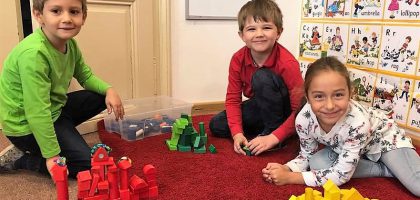 Group Activities
Circle time, story time, and group play activities incorporated into the curriculum provide kids with the opportunity to practice group decision making skills and the ability to express ideas in a group setting.
Music
Students are encouraged to use music in a variety of ways, learning new songs which are frequently used in a fun cooperative setting. Rhymes and poems are also something used with instruments to develop a feeling for rhythm, listening to tapes in the classroom and music class are all tools we use to aid in this part of our curriculum. Special songs and poems are introduced throughout the school year.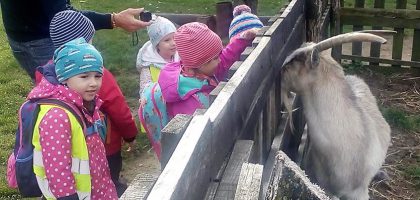 Social Studies, Science and Community Awareness
Our international curriculum allows us to make connections between various fields of studies in order to create a larger contextual understanding for our students. We cover topics from natural sciences such as biology, ecology, chemistry and physics, as well as number of topics from social sciences and technical skills. We try to make this an experience based practical learning process using many field trips, experiments, projects and interesting hands-on activities that encompass and fully involve the child in their learning activities.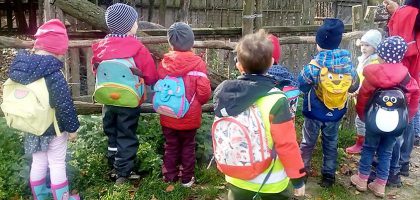 Field Trips
Parents will be notified of our intentions to take educational field trips throughout the school year in advance of the planned trip. All permission slips must be returned to the school office prior to the trip taking place.
Literacy
Nursery rhymes, songs, poetry, and books are used to introduce students to language activities. Story time is incorporated daily and is viewed as crucial to the development of language, vocabulary, thinking and listening skills.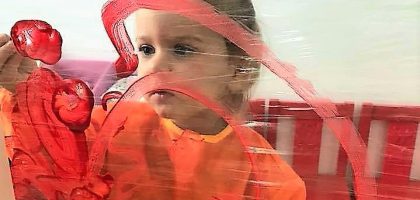 Afternoon Clubs
We offer a variety of afternoon clubs for students who want to take advantage of our broadened curriculum. Some of these are: Dance, Kids Yoga, Music, Piano lessons, Art, Bible Stories and Songs, Happy Earth…
Art
Although there are a number of art forms for young children we focus on one main educational and transformative strand which is process art. It allows children the opportunity to explore the world around them and ask questions. Process art is fundamental with how children learn because it allows them to be themselves, make their own decisions, be creative and use their full imagination. It allows children to develop skills in the following: Expressing feelings and emotions, Practicing and gaining fine muscle control and strengthening eye-hand motor coordination, holding paintbrushes and learning how to control paint, crayons, scissors, and other art tools, Developing perceptual abilities. Awareness of colors, shapes, forms and lines. As art leaves the end product open to the creator, all children experience a measure of success. This is why art activities are appropriate for children. children gain the skills necessary for later writing activities as well as a feeling of control over themselves and their world.
Physical Education
This is an important part of our learning and development at Handprints and we fully support the physical development in children to support their learning and progress in other areas.Physical Education will benefit your child throughout their childhood. There are a number of benefits for children who experience increased movement and physical activity. Children whose early childhood education is based on movement enjoy the following benefits: Better social and motor skill development, Increased school readiness skills, Building and developing muscles, bones and joints faster, Increased learning capacity, Developing healthier social, cognitive, and emotional skills, self-confidence, concentration, and coordination from an early age.
Knowledge
Knowledge taught here at Handprints provides a solid and coherent foundation for continued learning where children are taught to think and explore. Internationally, the most successful educational systems teach core knowledge in the early stages of childhood development. This is a core area of a child's ability to perceive the world around them and to learn information based on thought and inquiry. We fully support and encourage every child to explore and gather information which will enhance their learning ability not only in early childhood and kindergarten but also for later in life and for their journey throughout school.
Check out our daily schedule