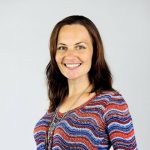 Dear Parents, friends and visitors of our website,
The greatest compliment you can bestow upon someone, is entrusting them with the care of your child. I can't think of a more sincere act of trust. Handprints International is a place which stands and continues to grow on the trust of our clients.
Your child will be in the hands of people that not only understand child psychology, but more importantly are happy to work with kids.
This influences the atmosphere in our classrooms, which is friendly and warm. Your child will be cared for in a manner we think parents expect. Your child will be heard, respected, accepted and loved. They will spend time in a positive and stimulating environment. This is why we believe that you as a parent can go about your daily life knowing your child is in good hands.
Life in Handprints is an adventure. It is dynamic, fun and creative. If you are thinking about joining our school be sure to schedule a visit. If you are already a part of Handprints, I welcome you on this exciting journey.
I am looking forward to everything we will accomplish working together.
PhDr. Petra Jurečková
Principal at Handprints International
Who are we
We are an international Kindergarten, providing education of highest standards to children from more than 21 countries.
Our purpose at Handprints is to care for, nurture and educate children primarily in the age range between 18 months to 6 years.
All of our learning and daily activities are in English. To enter any Handprints International program, kids do not have to speak English at all. The fun-filled curriculum will help our new students gain the necessary language skills. Our students are able to speak English fluently by the time they reach their pre-primary reception year.
Handprints is located in the city-center on Lazaretská. One of the great features at Handprints is our large, private schoolyard, protecting kids from contact with traffic and providing a safe environment to play.
Combining international curriculum standards ensures our students are able to continue studying in various school systems throughout the USA and Europe.
Our educational plan and curriculum are a combination of the standards set by the Department of Education SR-ISCED 0, Common Core standards adopted by The Colorado State Board of education and Primary years program (UK). We maintain a close relationship with Handprints Early Education Centers in the USA.
We teach interactively, manipulation with different materials, experimenting and exploring are all part of our daily activities. Our student's mental, social and emotional growth are very important to us. All of the activities are developed thoroughly to not only stimulate the children's brain for learning but to also provide substantial time for games, exercise and rest. A complex diagnostic of each student is performed by our teachers which not only enables them to focus on developing areas in which children need to improve, it equally allows more time for children to grow and develop in areas they already excel in.
Our Quality education is provided by an excellent team of qualified teaching staff and a lower number of kids in classrooms.
We strive to avoid overcrowding in our learning environment by allowing no more than 16 children in the "older" classrooms and up to 13 children in the "younger" classrooms.
Our teachers are readily available to provide parents with all of the important information regarding their child's progress at the end of each school day. Parents at Handprints also receive a monthly newsletter with more detailed information on educational and developmental progress, activities and upcoming events. Our parents also have the opportunity to consult their child's progress at one of our Parent-teacher conferences held regularly throughout the year.
At Handprints we not only focus on a healthy lifestyle, we also understand the value and importance a healthy diet plays in the role of a child's education.
We serve high quality foods that are GMO free. All of our meat produce is organic, and we prefer to use whole wheat products and brown sugar, honey and maple syrup. Everyday our outside play time is used and structured to ensure our students have enough exercise. We also make sure Kids drink plenty water and fresh fruits and vegetables during "Fruit and Veggie time"
We provide pedagogical, psychological and social counseling. Our parents have the opportunity to contact our special school psychologist and counselor whom are available if needed for any situation that may need to be adressed or solved both at school or at home
Student Safety is our number one priority. Our school undergoes all of the necessary procedures which are deemed essential and required to provide a healthy, productive and safe environment for all of our kids.
Check out our curriculum